We carry the complete line of BorgWarner Airwerks and EFR Turbochargers. Many products will be added weekly. If you do not see what you need Call/Email for more info.
Designed for competitive motorsports!
Airwerks turbochargers are designed for the competitive motorsports market as well as drivers retrofitting a naturally aspirated engine or looking for a little more performance from a factory turbocharged car. Engineered specifically for drag racing, pulling and road racing, AirWerks turbochargers have earned a reputation as robust, brute-force induction systems. Looking for a no-frills replacement? Want to upgrade your turbocharger? Working with limited space? BorgWarner's AirWerks turbochargers are the perfect go-to product for many applications. With a twin hydrodynamic journal bearing design, AirWerks turbochargers feature an effective high-pressure ratio compressor stage, extended-tip technology and a high-efficiency turbine stage. The configuration provides ultra-fast response and more than 70 PSI of boost.
Extended Tip Technology
Select BorgWarner turbochargers employ BorgWarner ''S'' generation compressor wheels that incorporate extended tip technology. This compressor wheel design feature promotes greater airflow using a low inertia wheel that performs like a wheel of greater size and mass. Extended tip technology enables you to have faster spool-up at lower engine speeds while providing the boost for the powerful top-end performance that most turbocharger enthusiasts have come to desire. Turbochargers have to meet different requirements with regard to map height, map width, efficiency characteristics, moment of inertia of the rotor and conditions of use. New compressor and turbine types are continually being developed for various engine applications with compressor wheels having an increased influence on the engine's operational characteristics. These wheels are designed using computer programs that develop a three-dimensional calculation of the airflow and pressure.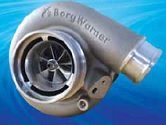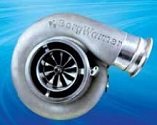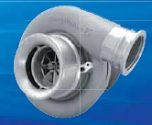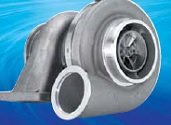 All Borg Warner Performance Turbos
Borg Warner 2017 Performance Catalog