Caterpillar C-15 Acert Twin to Single Turbo Conversion Kit 2004-2007 Freightliner, Kenworth, Peterbuilt, International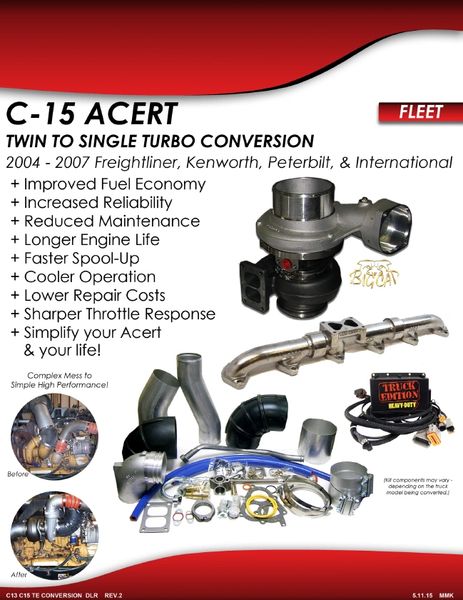 Caterpillar C-15 Acert Twin to Single Turbo Conversion Kit 2004-2007 Freightliner, Kenworth, Peterbuilt, International
Caterpillar C-15 Acert Twin to Single Turbo Conversion Kit
2004-2007 Peterbuilt, Kenworth, Freightliner, International

Improved Fuel Economy
Increased Reliability
Reduced Maintenance
Longer Engine Life
Cooler Operation
Lower Repair Costs
Sharper Throttle Response
Kit Includes:
Truck Edition Performance Module with Lifetime Warranty.
They are designed for fuel economy with an increase in power of up to 30% over stock all while delivering fuel economy benefits of 10 to 20%.
The adjustable four position switch allows the user to adjust on the fly from Stock, +10%, +20%, or +30% Horsepower Increases.
Performance Manifold
S430SX Turbocharger

Operational Range of 475-750HP
Forged Mill Compressor Wheel(Billet)
Non-Wastegated 1.32A/R Exhaust Housing.Optional Housing A/R's Available.

360 Degree Thrust Bearing



Additional Kit Components (kit components may vary depending on truck model)